Welcome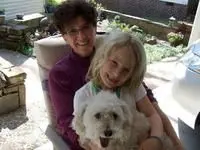 Do you worry about the direction your life is going, or maybe feeling "stuck" and clueless about how to fix it? Or maybe you've simply lost your joy and don't know what/where/when that happened?
Or are you perhaps concerned about the choices you've made (or someone has made for you)!
If you relate to any of these situations, then perhaps it's time to pause, unplug, and reboot.
I'm a therapist of longstanding, and my experience and life training are about helping people to do just that. Sometimes the hardest part is unplugging. Or maybe even Pausing . . . To ponder, reflect and listen! Listen not only to a therapist but most importantly - to your Self.
I'm a sensitive, intuitive, compassionate listener and guide. I care about my clients, friends and family, other people, the earth/environment, animals (especially dogs) and plants. I've been practicing in the therapy world a long time; and deeply understand we're all in it together.
I'm a believer in therapy that treats the whole person (holistic) (Deere Holistic Psychotherapy) and in healing from the inside out. . . in unraveling the root cause of dysfunction . . . whether that's childhood trauma, PTSD, addiction, health issues, or other. I believe in Positive Psychology, (which currently has scientific data proving its validity in changing our thoughts and feelings). What we eat and drink also has data proving its meaningfulness in our mental health.
"Meaning" and connection is what we're all looking for in life. I'm interested in helping people sort through, learn, and "redecide" about the things causing them grief.
Using Cognitive Behavioral Therapy (CBT) I listen/interact with you in a private, confidential setting and help you process through your "stuck" places. The process is not one-size-fits-all. It first involves clarifying who you are now, how you got here, and now what you want. Then we look at how to go about untangling your life situations andpractice making better choices.

However, it is your equal responsibility to assist in problem solving. As a therapist/guide/coach I often assign homework: books to read; podcasts; movies; utubes, etc. I expect full participation. Only with Your clarity and understanding, NOT my advice -- does joy and meaning return to life.
There's a song that goes: "With a little bit of help from my friends . . . I'll get by." In a safe therapeutic relationship with an understanding therapist, you can do much more than just get by. You can learn to make new choices and find more joy and peace of mind.
Please email me for an individual, or couples therapy consultation today.